Long-Term Success
Over a year later and still practicing what she learned through EFNEP, Kesha has lost 59 pounds through eating healthy and being physically active. Congratulations, Kesha!

EFNEP Helps Job Employement
"In August 2017, I began taking the Expanded Food and Nutrition Education Program. This class was not just educational for my own health; It taught me food safety that aided in my employment. The information from this class I will carry with me for the rest of my life. Not only in my [new] job but hopefully I will teach to my children, who will pass the knowledge on to their children."
- EFNEP Participant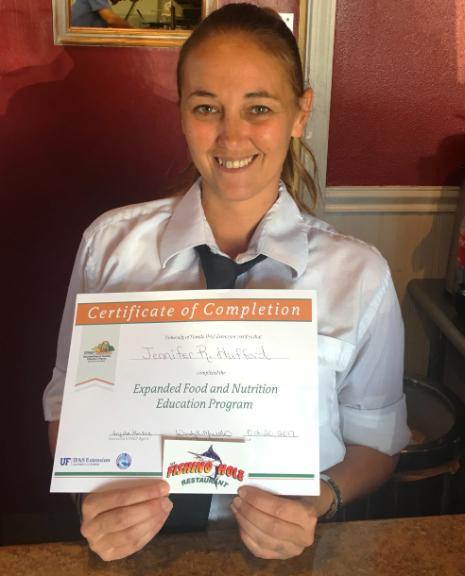 Making Changes Together
"In Seminole County, a grandmother attended an EFNEP series while her grandson attended the Extreme Cuisine camp. The grandmother was so excited that her grandson was going to learn how to prepare healthy recipes for himself. She was in for a challenge. At the summer camp we went over food safety on most of the lessons. I taught that people should have two spoons, one for tasting and the other for mixing. I explained the cross contamination that could happen if the person tastes and mixes the food with the same spoon. The grandson was astounded. The grandmother reported to me that her grandson doesn't let anyone taste the food with the same spoon. He makes sure that they have two spoons while they are preparing meals. Furthermore, while teaching the prevent osteoporosis ESBA adult lesson, the grandmother carefully observed the visual sample I had on different amounts of fat in milk. She asked me, did you show that to my grandson?" I said, "Yes I did." The grandmother replied, "That's why he wants everyone in the house to drink skim milk!" The grandma was really content with the program. Her grandson and daughter are eating more vegetables and her daughter is trying to cook more healthy home meals with vegetables. One of my best success stories."
- Wanda Lynch, EFNEP Program Assistant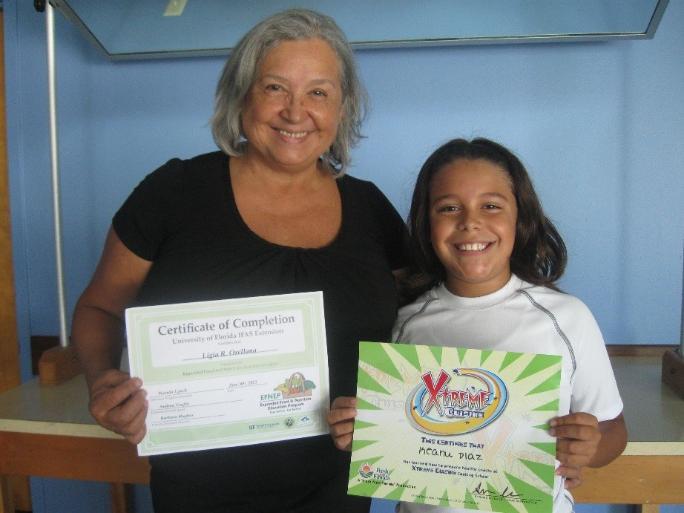 Read More Testimonials
"After taking EFNEP classes, my husband and I are now shopping and cooking healthier. We are exercising with our three children and really enjoy walking together after dinner. Together, my husband and I have lost over 25 pounds. We are playing outside with our kids and enjoy going to the park on weekends. The kids used to play a lot of video games, but are now enjoying the simple family activities we learned in class. I did not know that exercise could be fun!"
- Adult Participant
"After learning how to use the grocery store flyer, I use a shopping list to only buy what I need, not what I am tempted to purchase. Now, I am comparing prices and use the unit price to see what is less expensive. I have been saving at least $10.00 a shopping trip and I am now trying to learn how to use the computer for more savings. I have a lot to learn, but it's a good start."
- Adult Participant
"Thanks for teaching us about nutrition and how to eat healthy. It has really changed my mind of how to eat. It has been lovely having you teach us about all different types of food. You have been an inspiration and help for me trying out new foods and my parents are so joyful that I eat everything on my plate. Thank you!"
- Youth Participant, Fifth Grade